Police hunting fugitives in the central North Island have made an arrest in Ohakune.
It follows reports that a woman was seen being led away by officers from a house in the town.
An arrest warrant for Dolphy Kohu, the prime suspect in this morning's massive manhunt in the North Island, was issued six weeks ago.
Kohu was on parole after being released from prison where he was serving 30 months for shooting at a family in Whanganui in 2012.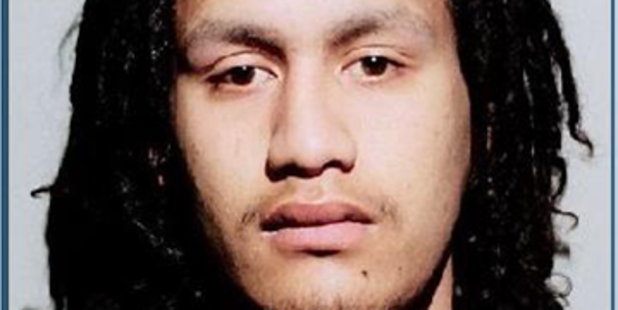 The Department of Corrections applied to the Parole Board to recall Kohu on July 1 after he had allegedly breached bail conditions. An interim recall order was made that day and a warrant for his arrest issued. He had been released from prison on June 3 with a curfew to remain at an approved address.
he Parole Board said they would not comment further.
Corrections central regional commissioner Terry Buffery said the department received information from Police that Kohu "had been involved in criminal activity."
"On this basis breach charges were laid and a recall application was made to the Parole Board."
No further details were available, including the date on which the criminal activity occurred.
Kohu was not subject to electronic monitoring.
Police were not immediately available to comment on their efforts to trace Kohu after the warrant was issued.
Kohu is at the centre of a drama that began about 2.30am when two police officers started chasing a car thought to contain three men – one of them Kohu – and two women near Whanganui.
The car they were chasing rammed the police car near Ohakune about 3.30am. One of the people in the car fired twice at the officers at close range. The group then drove off in the police car, which has since been recovered.
The officers were shaken but unhurt.
The stolen police car used by the fugitives remains in situ at the intersection of Ngamokai and Whangaehu Valley Rd, on the outskirts of Ohakune.
The rear of the station wagon appears to have suffered minor damage from crashing into the embankment, where it remains embedded, opposite the local marae.
The front of the vehicle has also suffered damage and has plastic or cardboard covering the front windscreen.
Two police vehicles, with armed officers inside, are sitting guard over the car and watching out for the group.
The Herald has already seen one patrol car of armed offenders squad members drive past the scene.
Conditions in the area remain foggy, wet and cold.
Schools in the area are closed or in lockdown and police have advised membes of the public in the area to take particular care and avoid picking up hitch-hikers.
Kohu has a history of firearms offences and dodging authorities. He was arrested for the offences he was most recently jailed for after a six-week manhunt that ended in Wellington in May 2012.
At the time he shot at a family he was on parole after serving a three-year prison sentence for the aggravated robbery of a Whanganui dairy in 2008.
In 2011, police issued a warrant for arrest after breaching his prison release conditions "over violence matters".
At a media conference in Palmerston North this morning, Central District Commander Superintendent Sue Schwalger said officers didn't know where the fugitives were.
"They are actively evading us."
"Just give yourself up"
Kohu's grandfather spoke to Radio New Zealand this morning, urging Kohu to turn himself in so he is not shot by police.
"The only thing I can really add to it is for my mokopuna, for my grandson, to give himself up, come forward and give himself up," Te Tawhero Dolphy Kohu, who shares the same name as his grandson, said.
"The situation now, as much as I hate to think it, they're going to shoot him, they're going to shoot him, his very actions have put him in that situation where they [police] have no choice."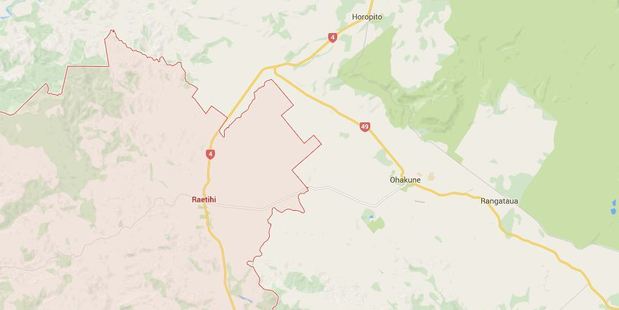 Asked what he would say if he could speak directly to his grandson, Mr Kohu said: "Boy, I love you, just give yourself up, that's all."
Police cordons are in place. The Armed Offenders Squad has been deployed, with aerial support from Auckland's Eagle helicopter.
It's understood that all officers have been told they should not be alone or unarmed.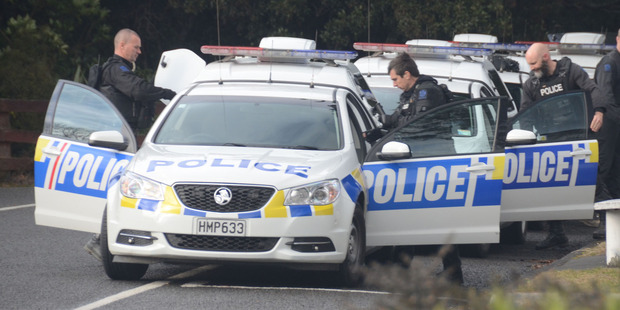 Weapons not taken from car
Police firearms, which were locked in the stolen police car, were not taken by the offenders, police said.
The weapons have since been recovered by police, and the police car was also recovered intact, near a marae between Parapara Rd and State Highway 49, police said this morning.
Ms Schwalger explained how the police car was taken.
"When the original vehicle was stopped our officers approached the vehicle. They were shot at, so they've retreated. And then what's happened is the offenders have got into our police car and driven off."
Later, the group abandoned the police car and an associate or associates in a "dark-coloured vehicle" picked up the group.
Ms Schwalger said she didn't "know enough" about Dolphy Kohu to discuss his past behaviour.
Police weren't yet aware of, or disclosing, whether Kohu's associates had criminal histories.
Ms Schwalger warned people living in the central North Island to "maintain heightened awareness" as they go about their normal business today following the incident, assuring that officers were "firmly focussed" on locating Dolphy and his associates.
"Police appreciate that people living, working and travelling in the Ohakune, Raetihi and Waiouru areas are naturally concerned given the unfolding situation," she said.
"While police advise that people maintain a heightened awareness, they should take the usual precautions and go about their business as normal."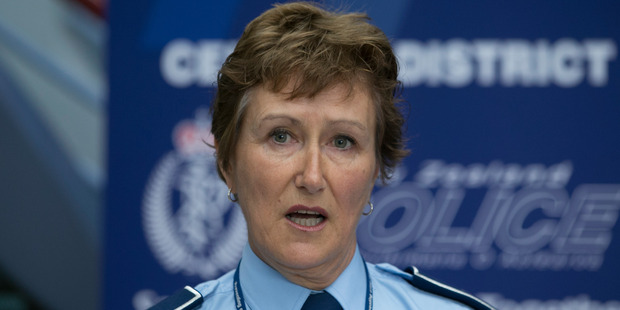 Some schools in the area have closed their doors for the day, but all roads remained open to traffic, Ms Schwalger said.
"We do have police patrols and checkpoints set up in key locations looking out for these offenders, who are considered armed and dangerous and should not be approached.
"The public can also expect to see armed police throughout the region, along with police vehicles and helicopter activity.
"We also warn those travelling not to pick up hitchhikers and to report any suspicious activity to police immediately via 111."
The location of the offenders was still unknown, she said, but vowed that officers were "leaving no stone unturned to find them as soon as possible".
"We have a large and highly trained team of police staff in the area actively looking for these offenders," she said.
"This includes specialist armed staff including members of the STG [Special Tactics Group] and AOS [Armed Offenders Squad]. The Eagle helicopter is also assisting in the search.
"While these sorts of situations are thankfully rare, police staff regularly train for exactly these sorts of situations and are very well equipped and prepared to respond.
"I can assure the public that police will take whatever steps are appropriate to keep the community safe. We have access to a full range of tactical options and highly trained staff to deal with these sorts of situations."
Area swarming with police
An employee at the Raetihi Caltex petrol station said the town was swarming with police earlier this morning.
"You wouldn't be able to sneak into town or out of town."
A Raetihi woman, who did not want to be named, said she hadn't seen anything, but had been told by a truck driver who had travelled "up the Parapara" – Parapara Rd, between Raetihi and Whanganui he'd been stopped by police on the way.
"He heard someone had driven up from Whanganui and shot at a police officer."
Schools in lockdown
Raetahi Primary School principal Nuku Wallace said his school is closed today, as are others in the area.
"At the moment we've advised all staff and all people to stay home and lock their doors while they try to find the people that they are hunting for."
The school has 212 pupils up to year eight.
Some didn't hear the news and have come into school, where Mr Wallace said a skeleton staff would keep them safe.
The school was in "lockdown" mode and pupils that had turned up would be in a room not visible from the outside.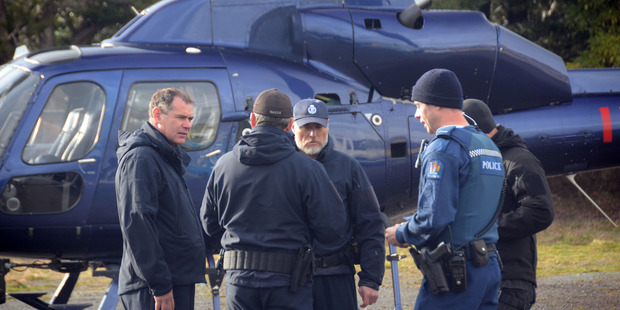 Pupils come to the school from across the wider area.
"All roads are blocked by police cars this morning and they turned a lot of the buses around," Mr Wallace said.
"We're feeling pretty good. We've been in contact with police and they don't think we're a direct threat at the moment."
Two of the school's parents were in the police and they were giving the school updates too.
"We would know if we were faced with an imminent threat."
Ohakune Primary School and Ohakune Kindergarten are also on lockdown. Parents have been advised to keep their kids at home, and will be updated with text messages from the school.
National Park School is also closed for the day.
Katrina Casey, the Ministry of Education's head of sector enablement and support, said all schools and early childhood centres in the Raetihi, Waiouru and Ohakune areas had been contacted, and advised to tell families whose children who had not arrived at school to keep them home.
Those with children already at school were told to keep them indoors, Ms Casey said.
"There are about seven schools and nine early childhood centres and kohanga reo in the area.
"We are on standby to deal with any further calls from schools and ECE involved should they need help but the Ministry and schools are following police advice. We will update schools and ECEs as we get further information."
Locals staying indoors
A woman at The Ohakune Court motel, who asked not to be named, said a school group was staying there, but the teenagers won't be venturing out today.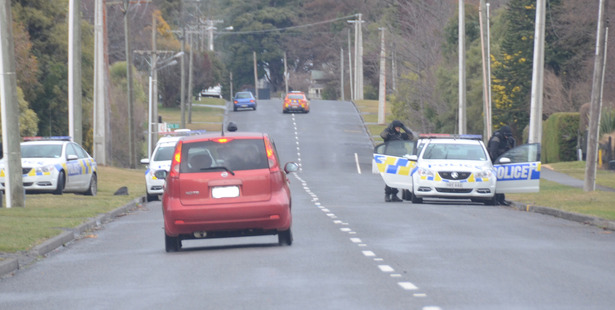 "We also run a mountain biking business and we're not taking people out today. It's going to be a quiet day I think.
"Everyone's being pretty cautious about it and respecting the advice of staying indoors."
Bad weather is expected to hit the search area shortly, as a front carrying heavy rain crosses the North Island from the west.
MetService meteologist Rob Kerr said there was scattered rain around Mt Ruapehu and Ohakune at the moment and that would soon turn in heavy falls until 3 or 4 this afternoon.
There were also strong northerly winds, with gusts between 95 and 100 km/h recorded at Waiouru airport.
Prime suspect has previous convictions
Today's early morning incident resembles Kohu's previous crimes.
On March 22, 2012, Kohu aimed and fired a shotgun at a family gathered in Aramoho, near Whanganui.
He fired one final shot into the air and took off, leaving one victim with shotgun pellets embedded in his skin.
Kohu spent the next six weeks on the run from police before he was eventually arrested in Wellington.
When the offending occurred he was on parole after serving a three year prison sentence for the aggravated robbery of a Whanganui dairy.
At the time of sentencing, on March 5 2013, Judge Cameron said brandishing and discharging a firearm in a public place needed to be met by a stern response from the courts, "even more so when it's pointed directly at people".
Kohu was sentenced to two years and six months in prison – meaning if he served his full sentence he would only recently been released before today's incident.
Parole Board Decision: May 21, 2015
• Kohu was released on parole on June 3, under special conditions including a curfew of 10pm to 6am.
• His sentence end date was August 2, after which time the curfew was due to be lifted.
• His parole conditions included remaining at the same address and adhering to the curfew.
• In the parole board's decision, reasons given for releasing Kohu from prison included the fact that he had accommodation in a "strong, supportive environment."
• It also mentioned his pregnant partner whom he needed to support.
• "We consider that Mr Kohu does qualify for parole given that in the next 10 weeks he is unlikely to commit any serious offending," the decision read.